If you've ever wished there was a way to directly pull Shopify data into NetSuite, our latest integration is for you. SuperSync for Shopify is a NetSuite connector that streamlines orders between Shopify to NetSuite. Everything from tracking data to inventory to sales is tracked in Netsuite in real-time.
What is SuperSync for Shopify?
SuperSync for Shopify is a connector that integrates real-time Shopify data from your eCommerce website into NetSuite. Instead of having to deal with data in both Shopify and NetSuite, plus whatever other inventory management systems you might be using, NetSuite serves as the central data hub for everything.
What Data Does SuperSync Pull to NetSuite?
SuperSync pulls virtually everything from Shopify into NetSuite, including:
Orders

Tracking information

Inventory

Customer refunds

Discounts

Credit card fees
One of the best parts about SuperSynch for Shopify is that the data flows both ways! You can push tracking information from NetSuite back to Shopify and sync inventory between both systems.
How Do I Use SuperSync for Shopify?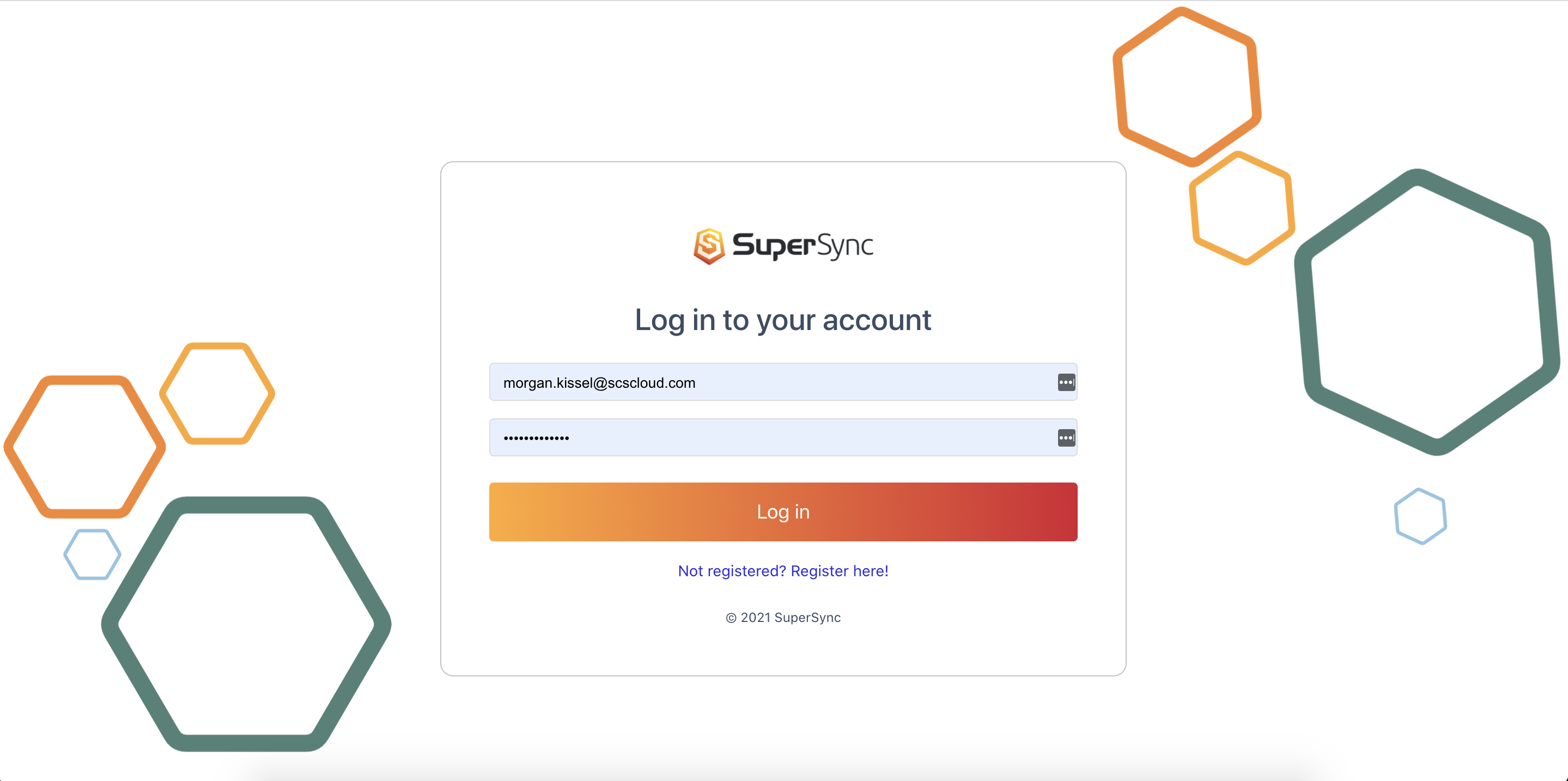 Setup new Shopify account/store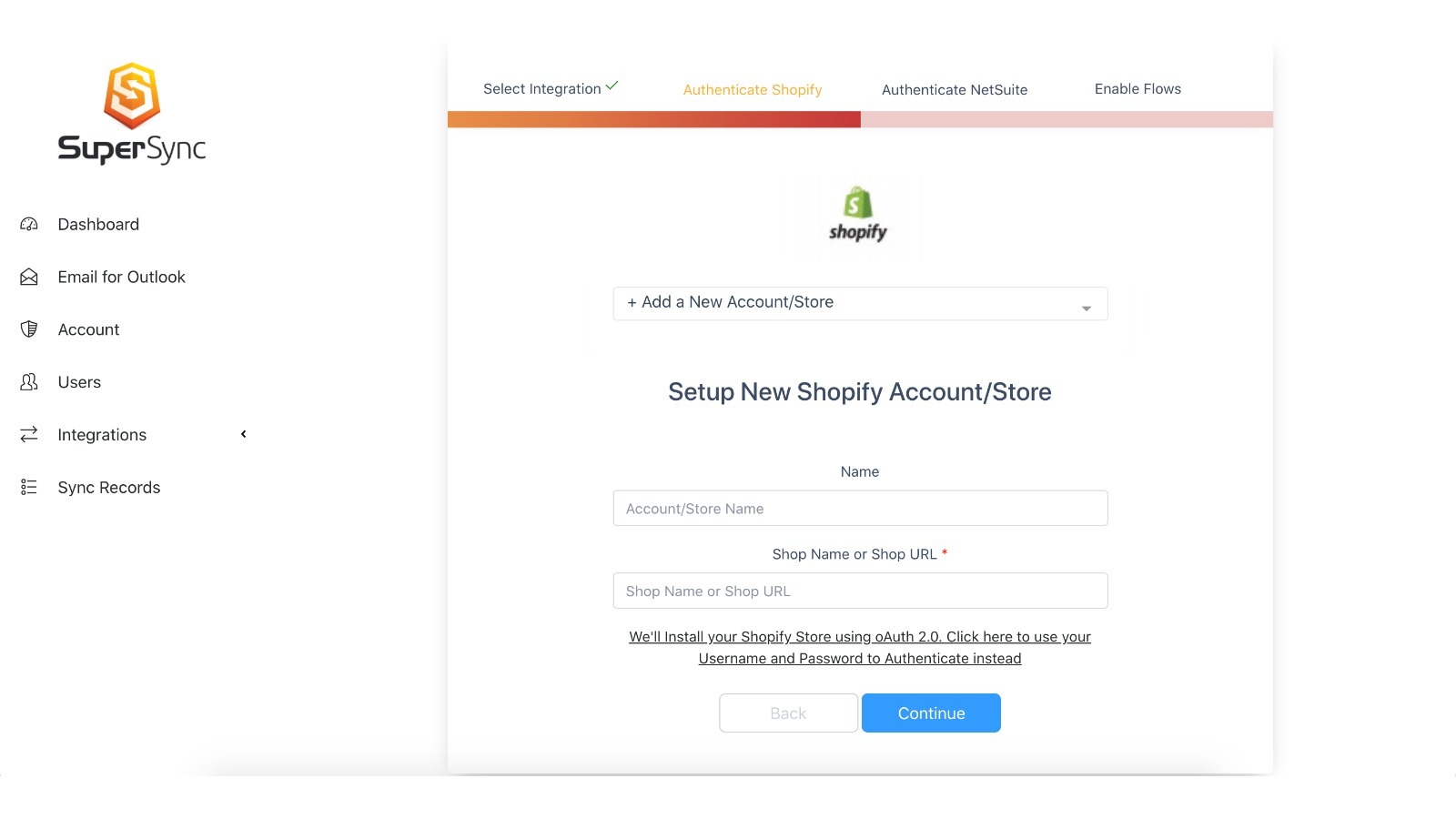 On the home dashboard, you'll see synchronization flows and metrics such as the number of records synced today, this week, and this month. This dashboard also shows any issues with unsuccessful syncs that need to be fixed.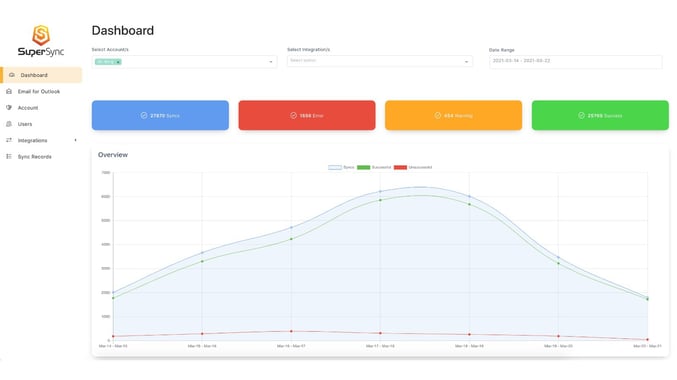 Scrolling down, you'll see recent transactions and their sync status.

You can navigate through other reports using the menu on the left.
There are a few different menus in the SuperSync dashboard:
Account - in this area, you can view and update connection information such as NetSuite restlet URLs, hosting information, and account details.
Users- this dashboard allows you to manage access and users.
Integrations - This is the core of the SuperSync platform -- it's where you can view all existing integrations flows. You can turn existing integrations on or off or add new ones.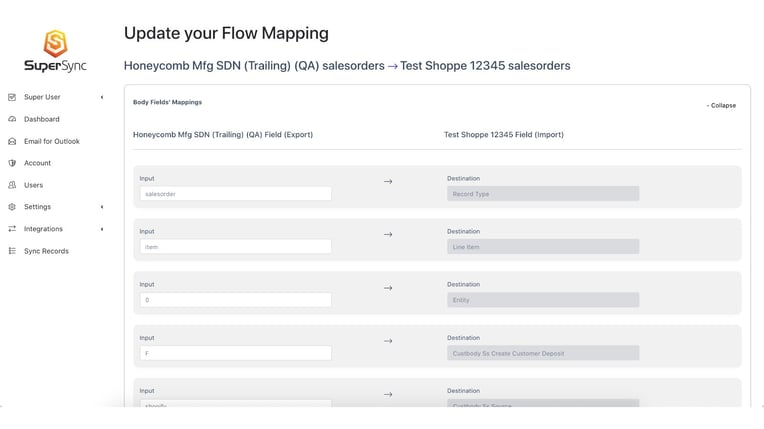 Benefits of Using SuperSync for Shopify
All your data is synced into one place, updating in real-time

It's affordable and easy to set up! Prices start at $2500 per year, we can get you up and running within days.

Our expert technical team works around the clock to provide guided support and pinpointed business information.

SuperSync can be fully customized to meet your specific needs, such as adjusting tax rates for different states.
Streamline Your Shopify Data Today!
Ready to get started? Contact us to set up a free demo of SuperSync for Shopify. We'll show you the ropes and talk about how it could help your business.