NetSuite Capabilities: Enterprise Resource Planning
Not your typical ERP solution, NetSuite ERP is robust and encompasses all areas of your company's financial business processes and back-office operations in the cloud – including accounting, payroll, purchasing, inventory supply chain, and order management.
NetSuite ERP delivers the proven, comprehensive financial management capabilities required to grow a changing, complex business. NetSuite ERP takes your business beyond traditional accounting software by streamlining operations across your entire organization and providing you with the real-time visibility you need to make better faster decisions.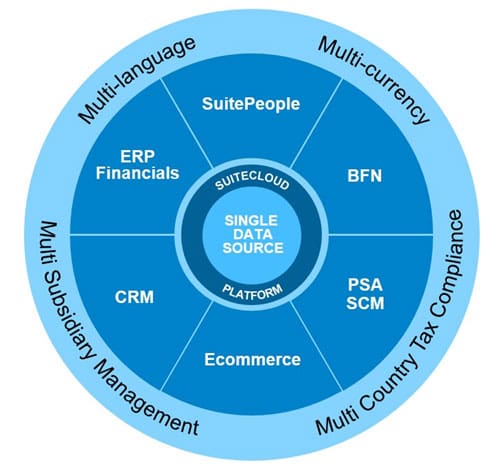 Marketing Automation – By allowing you to automate your entire marketing strategy you will be able to better align campaigns and programs with your sales teams. This application provides an ability for you to target, build, execute and measure the success of your marketing campaigns—taking the complexity out of lead qualification and conversion.
Opportunity Management – NetSuite's marketing automation solution allows you to track and measure a prospect's activity thus allowing you to identify when a lead meets known buyer-readiness conditions. From there you are able to pass that lead to your sales team allowing them to have a hot lead ready to buy.
Accounting – NetSuite online accounting software seamlessly couples core accounting functions such as general ledger, accounts receivables, and accounts payable with strong compliance management. Improve business performance, increase financial close efficiency and reduce back-office costs with standardized processes using a single, integrated solution.
Fixed Asset Management – NetSuite Fixed Asset Management supports detailed asset management, including maintenance schedules and insurance, while providing tight accounting integration so that your fixed asset information is always presented accurately on the financial statements. This includes flexible depreciation management, fixed asset roll forward, workflow management, and integrated financial reporting
Recurring Revenue Management – NetSuite's recurring revenue management solution integrates all of your front and back-office processes for your subscription-based business. You'll always have a complete, real-time view of your customers and their interactions. Improve customer retention and watch your business grow as existing customers renew and new customers get acquired.
Payment Management – SuitePayments is the smart way to meet all of your payment processing needs directly from within NetSuite. Whether your business accepts payments through online self-checkout or for the settlement of an outstanding invoice, you can accommodate all customer preferences. And, because it seamlessly integrates with NetSuite, you will have access to payment-related information in real-time.
Financial Planning – NetSuite's financial planning solution provides flexible, "what-if" financial modeling capabilities to help companies meet their budgeting and ongoing forecasting needs. Model and evaluate different financial scenarios to set targets for your annual operating plan, in a bottoms-up or top-down manner, and then analyze the variance between actual and projected results to manage business performance.
TIME TRACKING AND PAYROLL
End-to-End Payroll Management – Calculate earnings, deductions, company contributions, and taxes automatically. Print paychecks, stubs, and W-2 forms yourself or sign up for an optional W-2 and paycheck printing service or pay with direct deposit. Enable paperless payroll with an online Employee Center.
Automated Tax Management and Filing – Prepare, print, and file W-2 and 1099-MISC forms. Access to all U.S. federal and state tax tables including tables for approximately 10,000 local taxes. Complete all payroll tax forms online, pre-filled with employee and employer data, and more.
Time Sheet Management – When it comes to timesheet management, you need to make it simple and easy for employees to enter hours worked and supporting timesheet information. The more manageable the process, the more likely timesheets will be accurate and entered on time. With NetSuite, users can quickly and easily capture detailed timesheets, whether in the office or on the road. NetSuite timesheet management allows mapping of timesheet entry and approvals to your unique business requirements—ensuring you capture the right information the first time, every time.
SUPPLY CHAIN, INVENTORY, AND SHIPPING
Receiving and Putaway – Receive items as they come into the warehouse and utilize putaway strategies to find the best storage bin location. Perform putaway with step-by-step directions on an RF/Mobile handheld.
Order Fulfillment – Fulfill orders efficiently with Wave Selection and Release. Pick, Pack and Ship optimally with the use of system-directed picking and packing. Easily manage kits and work orders
Inventory Management – Replenish forward pick locations dynamically, perform inventory moves across bin locations, release and resolve cycle count plans. Track Serial # and Lot # along with FIFO and expiration dates.
Real-time Visibility and Control – Gain real-time visibility into warehouse operations with WMS Dashboard, monitor inbound and outbound metrics, labor productivity tracking, and more.