In this video Josh explains the functionality of one of our most popular bundles for NetSuite. This can be quickly implemented and customized to specific customer needs.
The Consolidated Invoices for NetSuite Bundle allows you to:
Roll Up Multiple Invoices to One Consolidated View

Automatically or Manually Run Invoice Consolidation

Accept Payments for Consolidated Invoices

Run Accounts Receivable Reporting by Consolidated Invoice

Multiple Consolidated Invoice Printed Forms

Automatically Email Consolidated Invoices

Custom Invoice Consolidation Logic
Roll up customer invoices into a single consolidated invoice which can be printed or emailed automatically to the customer. This solution has multiple options to show all line items on a single consolidated PDF form as well as listing all the combined invoices and line items.

Combine line items per product or optionally keep all products separate. Consolidated invoices for all child customers under a single parent customer. Choose to consolidate all invoices of a specific time or date, or select the specific invoices individually.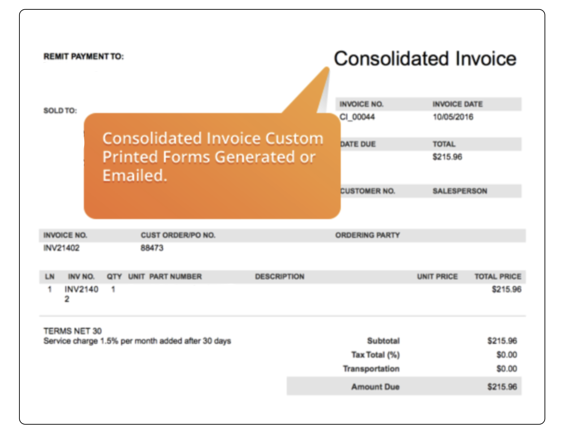 All invoices are stored in the file cabinet and referenced from the individual invoice records in NetSuite. Accept payment against a consolidated invoice number and automatically apply the payment to all the individual invoices within NetSuite.
Over the years of implementing NetSuite we have created many custom solutions for specific clients. We've collected these add-ons for NetSuite and present them to you as SCS Cloud Bundles which have been installed by hundreds of NetSuite users worldwide.
Our NetSuite bundles have been coded and developed in-house and can quickly and easily be installed or customized onto your NetSuite platform by one of our senior developers.
If you're running into issues with consolidated invoices and would like to speak with us about our consolidated invoices bundle or another bundle, email us to schedule a free consultation.